"That was one of the best innings I've seen in one-day cricket from Steve … not only Steve but from anyone," Labuschagne said. "The way he batted was superb. It almost felt like he didn't give an opportunity, didn't take a risk. When someone is doing that, it's scary.
"Towards the back end, Steve really took the game on. There's been two very big scores in the past two games, thanks to Steve."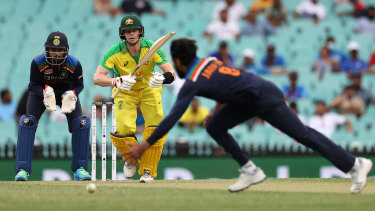 Smith is a noted tinkerer at the best of times but was especially motivated to change up parts of his game after an Indian Premier League stint with the Rajasthan Royals that saw him dismissed for under 10 six times in 14 appearances.
The 31-year-old has any number of experts he can access for assistance with his game, not the least of them being Australian coach Justin Langer. But time spent shadow batting in hotel quarantine provided him with the solitude to troubleshoot his own technique, and who could be better qualified?
"Steve is the best coach of himself and that's what sets some of these guys apart. He knows his game better than anyone, so he knows how he needs to feel," said Trent Woodhill, the batting coach who has worked closely with Smith over the years.
And it's all about the hands. Late, fast, being pulled through the line of the ball like a catapult. And when Smith finds an early one to his liking when he's in that sort of mood, it can well be curtains for the attack, regardless of where they put the ball.
Loading
"There's nothing better than the on-drive he hit early in his innings. He hit it straight down the ground and he nailed it. That's an indication where he talks about his hands being in a very good place," Woodhill observed.
"I think it's just a mindset with Steven. He's different to most, I keep comparing him to [Kane] Williamson and [Virat] Kholi, but the last few knocks have just been out of this world.
"That means he's even later on the ball, which means his momentum and weight transfer is perfect. Where do you bowl to him? What length, what line, what speed…how do you deal with a threat when he's like that?
"His focus can be a little off centre and he still does well. But when he's in this zone, you literally can't bowl to him."
The third ODI will be played at Canberra's Manuka Oval on Wednesday.
Sport newsletter
Sports, results and expert commentary delivered straight to your inbox. Sign up to the Herald's weekday newsletter here and The Age's weekly newsletter here.
RECOMMENDED: